My Bennett Family Page
(still under construction)
Emilie Josephine Konvalinka (1866-1955) married Walter Harper Bennett (1869-1963). He was the son of Michael Bennett (1836-1901) who emigrated to New York from Kings County Ireland in the 1860's. He (Michael) lived in Brooklyn, was one of the founders of St Augustine's parish, organized 72nd Regiment in Civil War, and was the author of "Catholic Footsteps in New York".
The progenitor/immigrant ancestor of this line is:
 "Colonel" Michael Bennett (1825-1901)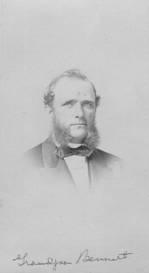 Obituary of Colonel Michael Bennett
From the Brooklyn Eagle 9 September 1901
Transcribed by his second great granddaughter Leocadie Robertson O'Brien in September 2003
Michael Bennett died at his home Sunday (September 8) after an illness of two weeks was probably one the best known members of the Ninth and Second Wards. He had lived and was prominently interested in that section around Fifth and Atlantic and Flatbush avenues for nearly fifty years.  His death was due to heart failure, occasioned by the heat of Saturday night, though the illness which he had been suffering was dysentery.  His attending physicians were Drs. McLean and Barber.  Colonel Bennett was born in Kings County, Ireland on July 28, 1826, and came to the neighborhood in which he died when about 30 years of age. His brother, William, was a farmer, who had worked a farm in that section around the present Flatbush Avenue railroad depot of the Long Island Railroad.
Near there was where the farmers used to some to sell their hay and young Bennett was contemporary with George Cochran and others in the establishment of a hay scales there in the early 50's. He afterward started a hotel on the corner Flatbush and Fifth Avenues, which he continued for almost forty years. Although a popular boniface in his early days, he was a total abstainer and complied strictly with the spirit as well as the letter of the law.
He organized the Seventy-second Regiment of militia, composed of men of Irish birth, in this county, and was its first colonel. In 1860 he united his command with some military companies and, as the Twenty-eighth Regiment of volunteers, they responded to the first call for troops. While going to the armory just before their departure he was thrown from his wagon through the breaking of an axle, and his frontal bone was fractured. The doctors advised against his going to the front after the wound had healed, saying that cannonading might cause insanity. He went in spite of this and served with his regiment under General William T. Sherman. A redoubt which was thrown up at Arlington Heights was named Fort Bennett. The regiment was mustered out after ninety days, but he marched at their head in 1863, doing duty at Gettysburg, where he fractured his leg. He gave up his hotel eight years ago [1893] and had since been in the real estate business with his son on Dean Street.
Colonel Bennett was unostentatious in manner and did not enter actively in politics, except once when he helped to organize the Jefferson Democracy, about twenty years ago. His charities, though many and constant, were unobtrusive, and since his death his home has been visited by many sincere mourners who have been his beneficiaries. He had lived in the house where he died [53 St. Marks Avenue, per the 1900 census] for over thirty years, and it was in his house that the meeting was held by the late Bishop Loughlin and others which organized the parish of St. Augustine, of which Colonel Bennett was one of the original members. He was the president of the conference of St. Augustine of the Society of St. Vincent de Paul, had been president of the Central Dispensary for several terms and was one of the trustees of the Board of Charities. Forty three years ago [1858] he married Miss Eleanor Harper of this Borough. She survives him with two sons [William and Walter] and two daughters [Josephine and Eleanor/"Nell"]. His sister, Mrs. Ann Walsh, survives him at the age of 80 years. The funeral services will be held at St. Augustine's Church to-morrow morning at .
 (He is buried in the Bennett family plot in Holy Cross Cemetery.)
Walter Bennett's obituary (from NYTimes obituary 10/9/63):
Walter H. Bennett of 5 Stonehouse Road (Scarsdale -- the home of his daughter), retired board chairman of the Emigrant Industrial Savings Bank of New York, died yesterday in Lawrence Hospital, Bronxville, at the age of 94.
Mr. Bennett attended Brooklyn Polytechnic Institute and went to work 70 years ago for the American Exchange National Bank. He became a vice president of the bank in 1915, and, on its merger in 1926 with the Irving Bank Columbia Trust Company, was elected vice chairman of the board of that bank. In 1930 he joined Emigrant Industrial, retiring in 1947.
He had been a director of the Bank of Manhattan Company, the Grace National Bank, the National Cash Register Company, the Hanover Fire Insurance Company and the Fulton Fire Insurance Company. Mr Bennett also was a former president of the State Bankers Association.
Surviving are a daughter, Mrs. William O. Robertson; 2 sons, Walter K. and Dr. John K., Bennett; 9 grandchildren and 10 great-grandchildren.