In August 1878 he was sketched by Winslow Homer: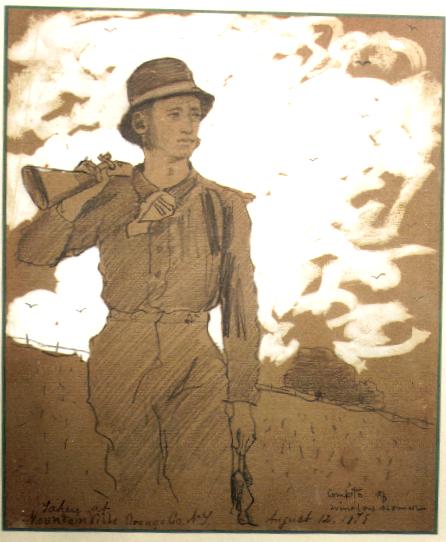 The notations at the bottom read:
"Comp[limen]ts of Winslow Homer.
Taken at Mountainville, Orange County, NY August 12, 1878"
Winslow Homer lived from about 1836-1910 and by 1878 he was already quite well known. He spent the summers of 1878 and 1879 at Mountainville, and it was there that he perfected his famous water color technique.
We do not know what connection there was or what brought "JWK 1858" to Mountainville. The property was owned by Lawson Valentine (Homer's most important patron) -- a prominent New Yorker who owned a varnish manufacturing business (one of their products was Valspar) -- in Brooklyn -- where my grandfather lived (thus providing the possible connection.)
An interesting sidelight is that the Rose family of Brooklyn also spent the summers in that area of Orange County and my grandfather married my grandmother Clara Rose. We wonder if they met in Mountainville, or if they already knew each other from Brooklyn, and Mountainville just provided the opportunity to get better acquainted.
"JWK 1858" died an untimely death in 1901, after an attack of Bright's disease -- a kidney condition which would easily be treatable today.. He left a widow and six children with limited financial resources, and this tragic event had a profound effect on my father "JWK 1891" (who had to go to work at age 14) and on the whole rest of the family.
or